NGO CSW/NY is pleased to announce its partnership with Women Have Wings who committed to help amplify our work with the Generation Equality Campaign through ten $5,000 gifts.
After consulting with the NGO CSWs in the regions, we are honored to announce the 10 organizations who will use the $5,000 to mobilize local voices from diverse communities worldwide.

Memory Kachambwa
Nominated by NGO CSW/AfricaMemory Kachambwa, Executive Director of FEMNET, is an intersectional feminist, a women's rights activist with over 18 years of experience working on issues of gender and development, women's empowerment and human rights at national, regional (Africa) and international levels. As a dynamic pan-African feminist, thought-leader and strategist, Memory is passionate about making a difference in the lives of women and girls using diverse approaches grounded in social justice, feminism and gender equality analysis and practice. She holds a Masters of Philosophy in Management, Integrated Water Resources with a focus on women in leadership and is currently pursuing a second Masters degree in Peace, Human Rights, Gender and Development. Memory values deep relations that are empowering and timeless.
Carole Shaw
Nominated by NGO CSW/Asia-PacificCarole A. Shaw, Asia Pacific Women's Watch, is an Australian political activist and principal sector specialist in gender equality, transforming gender status-quo through policy, international development, peace, conflict and humanitarian settings. She currently coordinates the NGO Women's Rights and Gender Equality Network – Australia. Carole has played a pivotal part in movement building at both national and regional levels, as well as internationally. She is an instrumental figure in collaborating with key partners in supporting Asia Pacific Women's Watch (APWW), which developed key strategies to support the participation of women in decision making in the post-disaster and post conflict sphere. She has extensive field experience in integrated development projects and monitoring and evaluation of key policy areas for presentation annually at CSW. An internationally renowned trainer and presenter, Carole provides Human Rights training on working in a Human Rights Framework and utilizing Conventions and Security Council Resolutions into work plans and field work. Her life philosophy is love, laugh, live.
Uma Shah and Suvekchya Rana
Nominated by NGO CSW/Asia-PacificUma Shah is one of the co-founders of Saathi in 1992 and at present she holds the position of the President of SAATHI since January 2016. Before being elected as the head of the organization, Ms Shah was extensively involved in managing and operating Saathi Women Shelters, the first of its kind in Nepal. She is the board member of Asian Network of Women Shelters and has participated in various international programs of women shelters. Shah has grassroots experience working with the underprivileged women and children in the districts. Her major role has been to make the domestic and sexual violence survivors economically empowered. She believes that if women and girls are economically empowered, they can lead their lives to the path of success and NO one can dominate them. In this process, she has involved Banking Sectors to support through their Corporate Social Responsibility for the training of skills and capacity building programs. Uma RL Shah is one of the Directors of Education Institute called NAMI (Naya Ayaam Multidisciplinary Institute in Jorpati).

Suvekchya Rana is a senior program officer at Saathi an NGO that works on Violence Against Women (VAW) in Nepal. She has been working for Saathi since 2004 and during this period has gained substantial experience on various spectrum of VAW and Gender Equality ranging from domestic violence, harmful traditional practices, child marriage, dignified menstruation, youth peace and security. As a senior program manager at Saathi she now coordinates programs related to policy advocacy, public outreach programs and campaigns including16 days of activism. She is also involved in detailed planning and implementation of the program on 'Creating Violence Free Home and Society' particularly with focus on mobilizing the Youth and Engaging Men and Boys. She was the key coordinator of the 'Generation Equality: National Youth Conference' convened by Saathi in January 2020 with 200 youth participants from all the 7 provinces of Nepal. She is also greatly involved in expanding partnerships and collaboration with different networks and organizations working on VAW including coordinating the National Network Against Domestic Violence (NNADV) and the National Network on Beijing-Review Nepal (NNBN). She has been actively engaged in the Beijing +20 (2014/15) and Beijing+25 national and regional review, consultation and documentation programs.
Amy Dowdle and Pouya Saeedi
Nominated by NGO CSW/GenevaAmy Dowdle graduated with a Bachelor of Biomedical Science (Honours, First Class) from the University of Otago in 2015. After spending a few years in the lab as a genomic researcher, she has recently completed her Master of Bioethics and Health Law (also at Otago) and now works for the New Zealand Parliament. Amy joined Graduate Women International in 2017, and soon took on leadership roles in the organisation at the local, national, and international level. Amy is currently the President of the Young Member Committee of GWI and is committed to collaborating across borders to promote gender equality. She is particularly passionate about ensuring equitable access to healthcare and education for women and girls, as well as promoting the involvement of young women in leadership and governance roles.

Pouya Saeedi graduated with a Doctorate degree in Nutritional Epidemiology from the University of Otago, New Zealand. Currently she is working as the data scientist at International Diabetes Federation, in Brussels, Belgium and also studying the Master of Business Administration (MBA) at the Solvay Brussels School Economics & Management, Belgium. Pouya has taken up various roles at Graduate Women International (GWI) including the Project Chair of the Young Member Committee and also acts as the Member of the Membership Committee. She is passionate about women and girls leading in science and technology and aspires to motivate them to undertake roles as science and business leaders.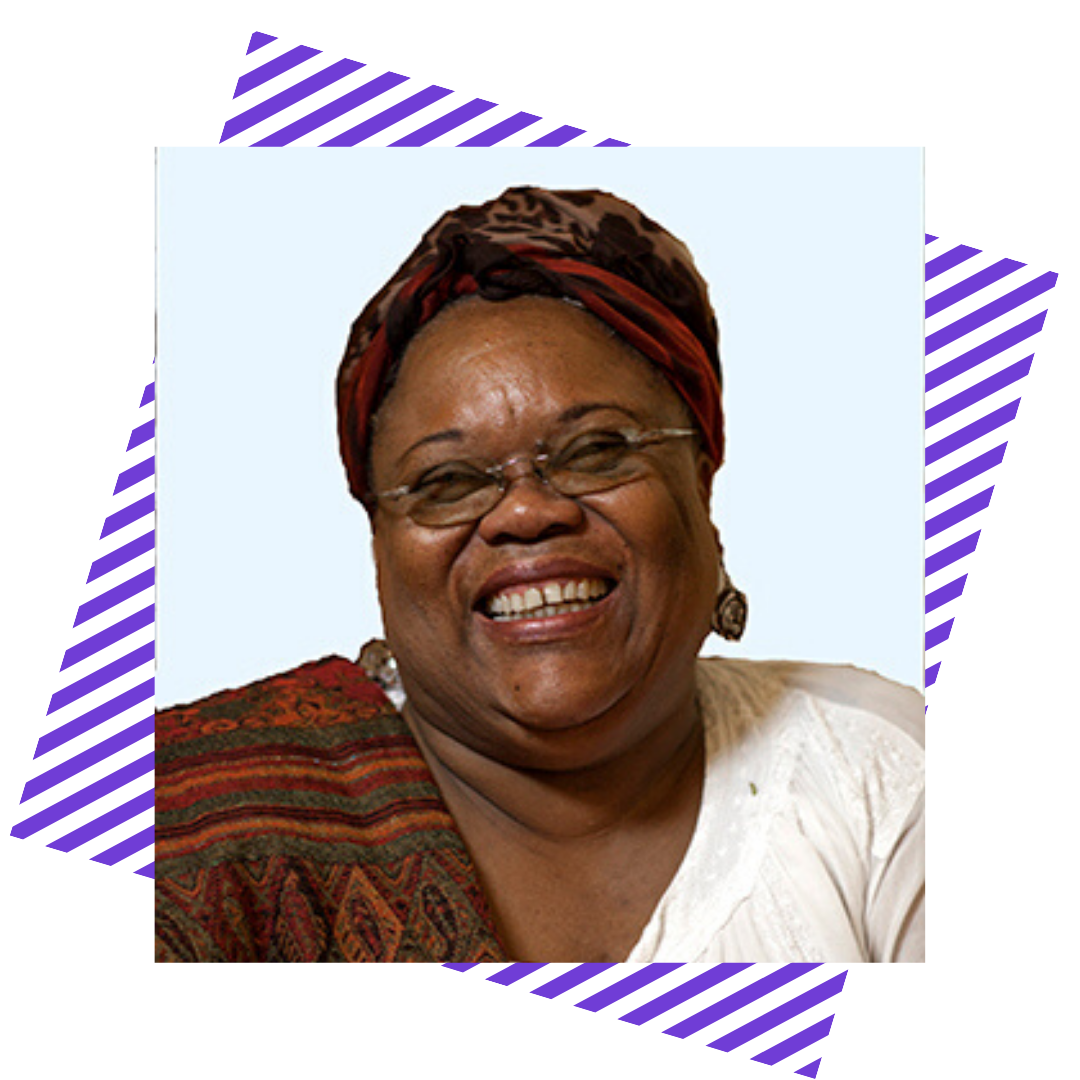 Dorotea Wilson Tathum and Paola Tañez-Inofuentes
Nominated by NGO CSW/Latin America & the CaribbeanDorotea Wilson Tathum, originally from Puerto Cabezas, Nicaraguan Caribbean Coast; Msc. In Gender and Development. Central American University (UCA). Activist and activist for the defense of the Human Rights of Afro-descendant and Caribbean Women. She is currently part of the advisory committee of the Network of Afro-Latin American, Afro-Caribbean and Diaspora Women and at the national level is the coordinator of Voces Caribeñas, a women's movement that promotes municipal policies with a gender focus on the Nicaraguan Caribbean Coast. At the national level she is a member of the Network of Women Against Violence Nicaragua (RMCV), and at the international level by the Network of Afro Women, she is a member of the NGO Committee group for the CSW of Latin America and the Caribbean. Promoter of the First Summit of Afro-descendant Leaders of the Americas in 2015, in which more than 270 Afro-descendant women from 22 countries of the Region participated, where the Political Platform of Afro-descendant Leaders was approved with the content of 17 axes and 71 demands for the Decade of the Population of African Descent 2014-2024.


Paola Yañez-Inofuentes was born on February 10, 1984. She is an Afro-Bolivian activist, feminist, Executive Director of the Afro-Bolivian Center for Integral and Community Development "CADIC", Civil Engineer, Diploma in Mechanisms for the Defense of Rights of Indigenous and Afro-descendant Women from University Andina. Facilitator on issues of gender, identity, discrimination, racial discrimination, women's rights, rights of Afro-descendant populations and indigenous peoples. Between 2013 and 2018 Coordinator of the Andean Region of the Network of Afro-Latin American, Afro-Caribbean and Diaspora Women "RMAAD". Since 2016 she is a member of the UN Women Civil Society Advisory Group for Latin America and the Caribbean. In October 2018 she was elected as General Coordinator of RMAAD. Fellow of the program "Education, entrepreneurship and Community Development: involving the African Diaspora and Indigenous Communities in the Americas", US Department of State, 2018.
Delores Robinson
Nominated by NGO CSW/Latin America & the CaribbeanDelores 'Del' Robinson, advocate, caregiver, counsellor, policy maker, net-weaver, mother-hen, superwoman, organizer, these are some of the 'labels' given to her at the grassroots level.

After over a decade of working in a Diplomatic Mission, in 2001 Delores went back to her roots – the women's movement, where, for over thirty years she has been an active member, first with Sistren Theatre Collective of Jamaica; then with Women Working for Social Progress where she has been a member since 1988 and currently serves as a Council member with responsibility for Administration and Finance; and seven years with Advocates for Safe Parenthood; Improving Reproductive Equity (ASPIRE) which ended in 2013. She served as Board member on a number of Non-Governmental Organisations including: The Network of NGOs for the Advancement of Women of Trinidad & Tobago; Community Action Resource –CARe; Co-Chair for the Trinidad & Tobago Group of Professional Association (TTGPA) Social Outreach Committee; The Committee of NGOs for the Commission on the Status of Women for Latin America and the Caribbean, (CoNGO CSW LAC) where she is currently Co-Vice Chair for the English Speaking Caribbean. In February of 2018 she was elected Global Grassroots Women's Representative for the Caribbean Region on the Huairou Commission Governing Council.

Read Delores' full bio here.
Ariane Moza
Nominated by NGO CSW/NYAriane Moza was born and raised in South-Kivu, Democratic Republic of Congo. Despite her disability, Ariane has persisted and successfully completed her university degree in Management and Development. She is an active member of the Global Network of Women Peacebuilders' Young Women Leaders for Peace, since its inception in South-Kivu in 2014. She now works for the Synergie des associations fémines du Congo (SAFECO), as a member of the core faculty. Her work in the field of women, peace and security has contributed to the expansion of the Young Women Leaders for Peace in many areas of South-Kivu. As an avid women's rights advocate, Ariane continues to make waves in her community. She works with young women to teach literacy, numeracy, leadership and peacebuilding in rural and remote areas. Ariane is fluent in French and constantly looking for opportunities to broaden her work in human rights and the promotion of peace.
Noelene Nabulivou
Nominated by NGO CSW/NYNoelene Nabulivou is a longtime feminist grassroots organiser and educator, feminist researcher, policy analyst, activist, advocate and movement-builder in Fiji, the Pacific, Australia and globally for over 35 years. Noelene is the co-founder and outgoing Political Adviser of Diverse Voices and Action (DIVA) for Equality – a Fijian feminist collective since 2011 led by lesbian, bisexual, transmasculine and gender-nonconforming people that concentrates intersectional and interlinkage work in urban poor communities, rural and remote constituencies of Fiji and works with/for all women and people in the Pacific and globally.

Read Noelene's full bio here.
Diana Abou Abbas
Nominated by NGO CSW/MENA-Arab StatesDiana Abou Abbas is the Executive Director at Marsa – Sexual Health Center. Diana is a firm advocate for sexual and reproductive health rights. She began her career in communications before shifting to non-profit. She has grown as a person and as a professional with Marsa since 2011. Diana led the organization from a grassroots status all the way from Lebanon to Australia to receive the Red Ribbon Award by UNAIDS, for the prevention of sexual transmission of HIV.

Since its launch, Marsa has provided over 24,000 anonymous services ranging between voluntary counseling and testing, medical consultations, and psychosocial support. Diana invested her passion for communications through Marsa's ground-breaking video campaigns that challenge social norms, and bust myths around sex and sexuality, while maintaining a fine line that great aunts would appreciate. One of her primary aims is changing policies to create equitable access to sexual and reproductive health and rights for girls, women, and vulnerable groups.
Anna Rivina
Nominated by NGO CSW/ViennaAnna Rivina (she/her/hers) has a PhD in Law and is the co-founder and Director of Abuse Problem Resolution Center "Nasiliu.net". Anna created a help map with information on crisis centers across the country for the victims of domestic violence along with video instructions on how to behave when faced with violence and created many more important media projects. She gave dozens of interviews on the topic of domestic violence in Russia. She opened a center for women where victims of abuse can get legal and psychological assistance. Anna is also a professor at Moscow State Law Academy (MGYA- МГЮА) where she teaches family law. She entered the rating of the most promising Russians under 30 years old in 2020 among 100 nominees. Anna also entered the list of Twenty Young and Promising by RBC magazine.